Hi there Team HP
In terms of the Booking extension's finer points, there is a Buyer UX problems that require some fixing.

When a payment has failed, the Buyer gets the page in the screenshot below, which relates to WooCommerce, which I know HP piggybacks on, but seeing as HP doesn't use the Woo cart, this is something that needs some attention as it doesn't even display the full value of the transaction to the Buyer. In our use case, it should have included a R10 service fee and a R5 extra selected by the Buyer when booking; hence, the value displayed in this Woo cart should have been R35.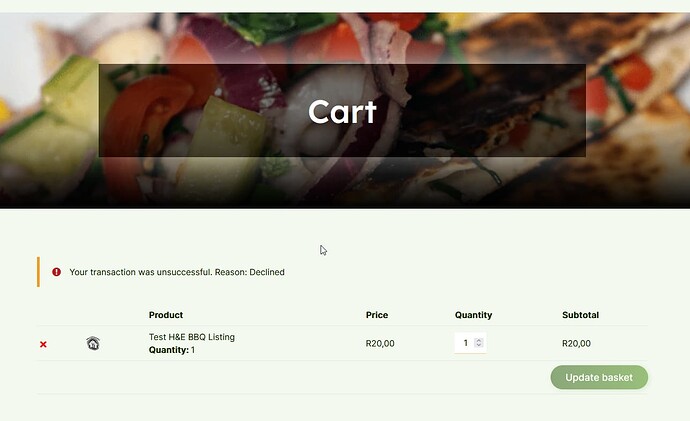 For our use case, I'll just use some CSS to change the page header, hide all the Woo cart, and style the error message a bit. But certainly there will be other HP users who are as CSS-literate.
I don't know why there hasn't been other topics created relating this bug; the other HP users are obviously not doing thorough UAT (User Acceptance Testing) like I am.
Something that has fallen on the short side of late, I've noticed, as things are publish and fixed as and if users might complain/mention them.