This menu is from the www.webpage.com/my-account/orders/ page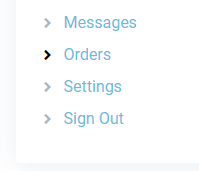 I want to change "orders" to something else, like "my orders".
I've already used Loco Translate to change "order" and "orders" in other places in WooCommerce as well as in other Hivepress plugins but I cannot find where to change this.
Where do I find the string in Loco Translate to change this, or is there a code snippet?
I've also already sync'd WooCommerce to make sure it was up to date in Loco Translate.