Hello
User account showing nothing its blank white screen
don't know what to do now
website name : https://listobiz.com/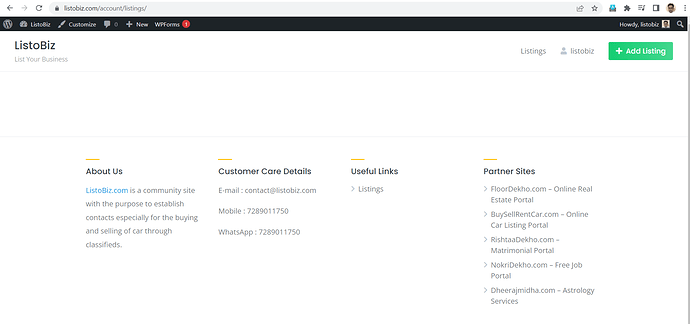 Thanks
Hello
pls update anything my site is not showing anything. user not able to view anythig in his or her account page
Thanks
Please disable third-party plugins and customizations (if there are any) and check if this issue persists. If you use a caching plugin (e.g. LiteSpeed), make sure that caching is disabled for logged-in users.
Please refresh the permalink structure in Settings/Permalinks (choose a structure with %postname% if the default one is selected) and check if this issue persists.
Hello
Thanks For Your relply
i have done everything that you told me to do (disabled all third party plugins, i am not using any cahe plugin, parmalink is post type) still issue persists.
well i came to know this i think after updating geo location plugin yesterday.
Thanks
If it is possible please check the PHP error log, usually, it contains the detailed error and mentions the file and line number where it occurred, and please share errors here
Also please check HivePress/Templates. Maybe there is an empty template for Listings? If yes please fill in with some blocks or delete it
Hello
Thanks a lot for you kind support
yes it solution worked for me (so please check HivePress/Templates. Maybe there is an empty template for Listings? If yes please fill in with some blocks or delete it)
i just creted a templete edit lising and it was emty now i have deleted it now issue fixed
thanks a lot for your support
Thanks
Thanks