Salut,
@ihor
I'm writing to you because I'd like to ask you a few questions, please?
but first, I'd like to tell you that I've done my research with your texts, essays, browsed a lot of questions on the subjects, I've watched videos of a French speaker who promotes Hivepress perfectly for installation, but not for the settings for collecting commissions, payment, simulated purchase step.
1 Concerning the decimal number, I do not understand anything, because yesterday, I set the rate with difficulty, I was based on a question and answer on the forum on WooCommerce setting that had to change it, since WooCommerce now set to zero the number effectively, I changed it to 2 and when you say to put number that changes the prices randomly in short number bugs because I wanted a rate 3.25 and do not know if I do the setting correctly?
2 questions
this really concerns the manual mode, direct payment, Stripe steps,
I did my research on the forum and it really messed up my mind because there are too many questions and answers on each of these issues which mode to choose?
I just want a simple method for buyers and sellers, customers order a service and the supplier responds to the offer, once the service provided, he must mark his work completed and customers also confirms the work, I'll publish the order which means the validation of payment, but that's where I'm not really sure should I go to PayPal and Stripe to send the money?
Or by publishing as on a normal WooCommerce order site, publishing means completing payment?
I really don't feel like I'm following too much, everything is too short, whether it's the hivepress videos or the texts. We French like to go into detail, which isn't a criticism, but honestly, if you gave me a video showing me all the steps from start to finish, I'd ask you fewer questions.
3 questions
this concerns something important in the photo profile and also in the setting put text to warn the user of rules like don't put your face for safety and put a logo or your company instead, because I can't find anything as a setting to add text like forbidden items example before publishing an ad, also, I can only do it at the bottom of the other text blocks it's not good what should I do simply please and I'm not a coder?
4 questions
Can I use the flatome builder to modify some elements outside Gutenberg?
5 Questions
can I find a simple solution for automatic payments, customers negotiate with suppliers, pay, the supplier, me, I simply take the commission and monitor them message if they are in order and sale if there is a problem, I mediate agreement, and simply not to engage my responsibility to the maximum please just a service between them?
6 questions
I'm going to finish my series of questions, do you have someone at home who speaks French? So that they can explain to us in 20 minutes what we need to know for us, please?
---
Je vous écris, car je souhaite vous soumettre plusieurs questions s'il vous plait ?
mais avant, je tiens à vous dire que j'ai fait mes recherches avec vos textes, rédactions, parcourut beaucoup de question sur les sujets, j'ai regardé des vidéos d'un francophone qui fait la promotion de Hivepress parfaitement pour l'installation, mais pas pour les réglages d'encaissement de commissions, paiement, étape simulés d'achat.
1 Concernant le nombre décimal, je ne comprends rien, parce que hier, j'ai réglé le taux avec difficulté, je m'etais basé sur une question et réponse sur le forum sur WooCommerce réglage qu'il fallait le changer, puisque WooCommerce le désormais mis à zéro le nombre effectivement, je l'ai changé à 2 et quand vous dites de mettre de nombre cela change les prix aléatoirement bref de nombre bugs car je voulais un taux 3,25 et ne sais pas si je fais correctement le réglage ?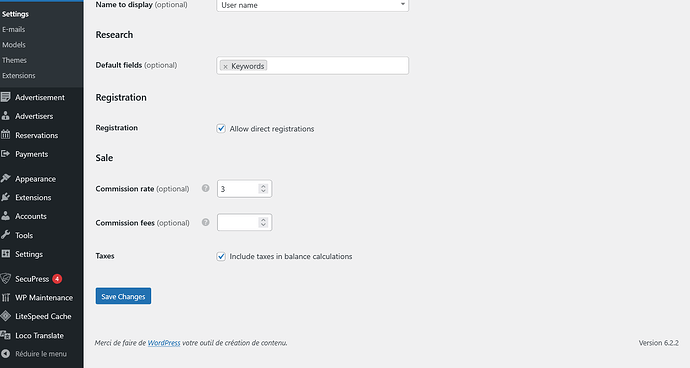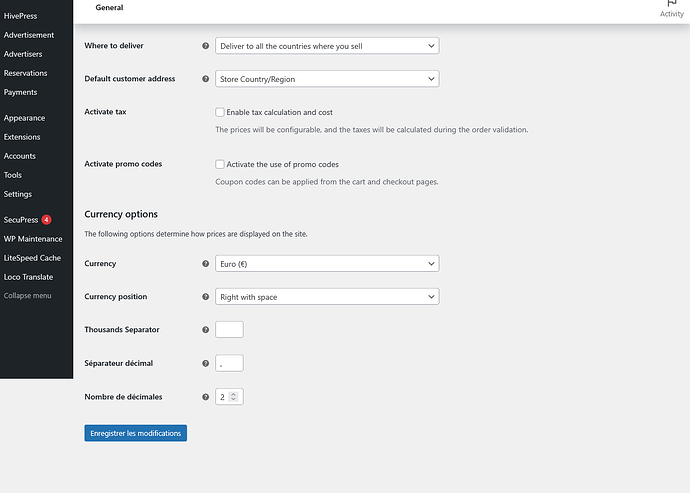 2 questions
cela concerne vraiment les étapes de mode manuel, paiement direct, Stripe,
j'ai fait mes recherches sur le forum et c'est ma vraiment perturbée l'esprit parce qu'il y a trop de questions et réponses sur chacun ses problématiques quel mode choisir ?
moi, je veux simplement une méthode simple pour les acheteurs et vendeurs, les clients commande un service et le fournisseur répond à l'offre, une fois le service fournis, il doit marquer son travail terminé et les clients lui aussi confirme le travail, moi, je vais publier la commande qui signifie la validation du paiement, mais c'est là que je ne sais pas vraiment est-ce que je dois aller sur PayPal et Stripe pour envoyer l'argent ?
Ou bien en publiant comme sur un site normalement d'une commande WooCommerce, publier signifie terminer paiement ?
J'ai l'impression réellement de pas trop suivre, tous et trop court que ce soit les vidéos hivepress, les textes, nous les Français, on aiment bien les détailles, ce n'est pas une critique, mais honnêtement si ont me donner une vidéo qui me montre toutes les étapes du début à la fin je vous poserai moins de question.
3 questions
cela concerne une chose importante dans le profil photo et aussi dans le réglage mettre du texte pour avertir à l'utilisateur des règlements comme ne mettez pas votre visage pour la sécurité et mettez un logo ou de votre entreprise à la place, car je ne trouve rien comme réglage pour ajouter du texte comme des interdictions d'objet interdit exemple avant de publier une annonce, aussi, je peux seulement le faire en bas des autres blocs texte ce n'est pas bon que dois-je faire simplement s'il vous plait et je ne suis pas codeur ?
4 questions
est-ce que je peux utiliser le constructeur flatome builder pour modifier quelques éléments en dehors de Gutenberg ?
5 Question
est-ce que peu trouver une solution simple pour les paiements en automatique, les clients négociés avec les fournisseurs, paye, le fournisseur, moi, je prélève simplement la commission et surveille-les message s'ils sont en règle et vente s'il y a un problème, je fais la médiation d'accord, et simplement pour ne pas engager ma responsabilité au maximum s'il vous plait juste un service entre eux ?
6 questions
je vais terminer ma série de questions, avez-vous une personne chez vous qui parle français ? pour qu'ils nous expliquent en 20 minute ce que nous devons savoir pour nous s'il vous plait ?