Hi, could you kindly tell me how to insert my own html code into the results counting block above the listings-view output, which is indicated in the screenshot?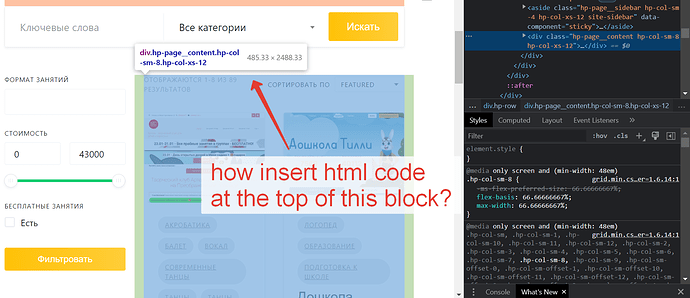 What I tried:
Created a new page and assemble it from blocks or shortcodes, as in this instruction. Among the hivepress blocks, insert my own block with the custom code. This almost helped, but when a search query is entered and "Search" is clicked, the results are displayed on another url page in the format:
mysite.com?post_type=hp_listing&s=searchexample&_category=
on which my custom block is no longer inserted.
Then I tried to find a template in the plugin's file structure to insert my code into it, but I couldn't find where this hp-page__content div is written.

I saw the instructions about code snippets but I couldn't figure out how to insert my custom html code exactly in this place.
Please help solve this issue.