Hi there team HP.
Was wondering how to only have two options for the listing extras, per booking and per each. So removing the per place per each and per place from the selection.
We've come across a snippet by Yevhen dated Dec '22 in a topic Able to limit price extras to per booking only? and another topic Only keep per place as price extra using the same snippet, but both just have one option and we'd like to also have per each (per listing) and possibly have it as default instead of the blank should vendors not make a selection.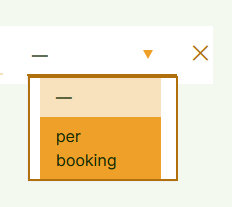 Below is the snippet used by the two topics listed above.
add_filter(
	'hivepress/v1/models/listing/attributes',
	function($attributes){
		if(isset($attributes['price_extras'])){
			$attributes['price_extras']['edit_field']['fields']['type']['options'] = [
				'per_order' => 'per booking',
			];
		}
		
		return $attributes;
	},
	1000
);

add_filter( 'hivepress/v1/models/listing/fields', 'change_price_extras_custom', 200, 2 );
add_filter( 'hivepress/v1/forms/listing_update', 'change_price_extras_custom', 200, 2 );
add_filter( 'hivepress/v1/meta_boxes/listing_attributes', 'change_price_extras_custom', 200 );
add_filter( 'hivepress/v1/models/vendor/fields', 'change_price_extras_custom', 200, 2 );
add_filter( 'hivepress/v1/forms/vendor_update', 'change_price_extras_custom', 200, 2 );
add_filter( 'hivepress/v1/meta_boxes/vendor_attributes', 'change_price_extras_custom', 200 );

function change_price_extras_custom($form, $model = null){
		$is_form    = strpos( current_filter(), 'form' );
		$is_model   = strpos( current_filter(), 'model' );
		$is_listing = strpos( current_filter(), 'listing' );
		$per_vendor = get_option( 'hp_booking_per_vendor' );

		if ( ! $is_listing && ! $per_vendor ) {
			return $form;
		}
		$fields = [];

		if ( $is_model ) {
			$fields = $form;
		} else {
			$fields = $form['fields'];
		}
		$listing_id = null;

		if ( $is_listing ) {
			if ( $is_model ) {
				$listing_id = $model->get_id();
			} elseif ( $is_form ) {
				$listing_id = $model->get_model()->get_id();
			} else {
				$listing_id = get_the_ID();
			}

			if ( ! $listing_id || ! hivepress()->booking->is_booking_enabled( $listing_id ) ) {
				return $form;
			}
		}

		if ( $is_listing && hivepress()->get_version( 'marketplace' ) ) {
			if ( get_option( 'hp_listing_allow_price_extras' ) ) {
				$fields['price_extras']['fields']['type'] = [
					'type'    => 'select',
					'options' => [
						'per_order' => 'per booking',
					],
					'_order'  => 30,
				];
			}
		}
		if ( $is_model ) {
			$form = $fields;
		} else {
			$form['fields'] = $fields;
		}

		return $form;
}