Hello
After Enabling geoloction
on desktop location search working but on android mobile location search not working
Pls Help
Thanks
Please send more details that may help to detect or reproduce this issue (e.g. a link to your site, screenshots, a list of installed plugins or the error message you get).
Hello
Thanks A lot for your response
site link : https://listobiz.com/
i am unable to take screenshot in mibile when i am taking screen shot of search it is coming blank
you pls try to open in your mobile you came to know location search not working
installed plugins list is : Code Snippets, Custom Post Type UI, Elementor, Essential Addons for Elementor, HivePress, HivePress Favorites, HivePress Geolocation, HivePress Messages, HivePress Reviews, WP Mail SMTP, WPForms Lite
and error message is nothing only blank screen
you try to search in your mobile you came to know the problem or bug
Thanks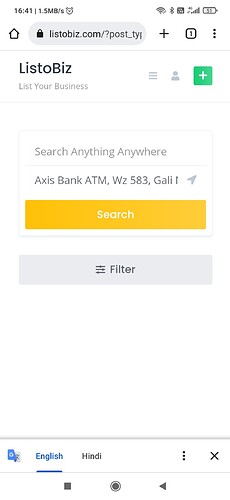 Please try to change the secret Mapbox key on the public Mapbox key.
Also please make sure that you have listings in this region
Hello
Thanks a lot i just changed the map box key its now working perfectly
but what about regi0ns do we have to creat it manually
Thanks
No, regions are generated for each listing (they are generated on changing the location or if it's a new listing).
Hello
Thanks a lot for your kind response
i checked it is generated autometicall when new listing is being crated
Thanks
This topic was automatically closed 30 days after the last reply. New replies are no longer allowed.