I've installed the mailchimp plugin, don't know how to enable signup on user registration form.
If you've installed and linked the plugin with your Mailchimp account, HivePress will automatically add a Mailchimp signup checkbox to the user registration form.
Please see the MC4WP documentation for setup instructions.
I've installed and linked the plugin. It just doesn't show option on my form. Their docs mention modifying function.pho, is that required?
Code changes are not required. Please install HivePress & MC4WP plugins, then enable HivePress in MC4WP > Integrations; a newsletter checkbox will automatically appear in the HivePress registration form.
I guess that's the issue, HivePress doesn't show under the MC4WP integrations for me (see attached), despite having both installed and activated. Any ideas?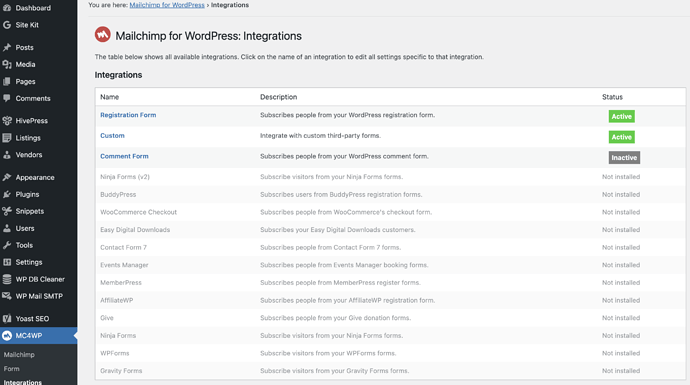 You're right, thanks for reporting this - it seems that they updated something and HivePress integration doesn't appear anymore, will be fixed in the next version.
This topic was automatically closed 30 days after the last reply. New replies are no longer allowed.